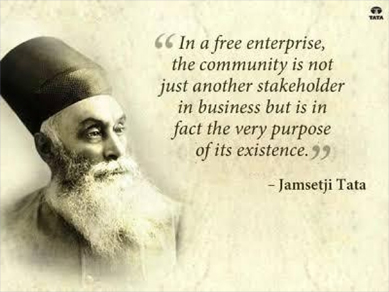 TATA Power Trading Company Ltd. (TPTCL) is 100% subsidiary of TATA Power and is govern by the guiding principles and values of Tata Group.
Tata Power Trading believes in carrying forward the philosophy and legacy of the Tata Group by giving back to the society through its community development initiatives.
Our guiding philosophy has been that we should actively undertake activities that benefit the society.
In the midst of the din of hectic trading activities, Tata Power Trading encourages its officers to do their small bit for the society and it is heartening to note that efforts are regularly being made to organize Health Camps, Self defence trainings and providing medicines/medical aid to the needy. Such efforts have been appreciated by the beneficiaries of these initiatives.
Tata Power Trading has always undertaken various initiatives with an aim to improve quality of life and ensure holistic development of its surrounding communities.
Tata Power Trading deploy development initiatives to incubate, implement and multiply diverse community-based projects and interventions, to help build a better and sustainable society through various initiatives. The underlying goal of the interventions is to transform the lives of the community through result oriented participatory approach. The efforts are directed towards inclusive growth, so as to reach out to its nearby communities and help them build a sustainable future.
All our community development projects work with the concept of 'Leadership with Care' at our heart, which translates as 'Care for Community'.
CSR Vision
"To make Tata Power the Neighbour of Choice of communities and earning the right to co-exist and co-create by working jointly for social well-being and improvement in quality of life".
CSR MISSION
To work with communities in the vicinity of its operations or as specially identified, to gain their acceptance of co-existence by addressing salient development imperatives of…
THRUST Areas
Building Social Capital through Five Prioritized Thrust Areas
Education: Focus on Primary Level (Quality Education and Gender Equality)
Livelihood and Employability: No poverty
Water for Drinking and Irrigation: Clean water and Sanitation
Health and Sanitation: Good Health and Well-being
Financial Inclusivity: Reduced inequalities and Partnerships for the goals
Various Initiatives
Distribution of Dry Ration
Tata Power Trading Company Limited had distributed Dry ration along with Health & Hygiene Kit in JJ clusters of Sector- 8 & 9, Noida. The residents of this area are migrant labourers and daily wage workers working in the unorganized sector who have lost their jobs. These migrant labourers and daily wage workers do not have money to feed their families. A total of 350 families were supported by this relief work.