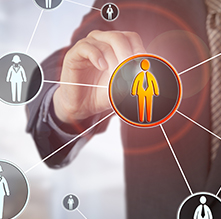 WHAT IS QCA
QCA means Qualified Coordinating Agency which coordinates on behalf of all the wind/solar generators connected to the pooling station in a State with relevant entities such as SLDC as per State Regulations and is responsible for forecast, submission of schedules, metering, data collection/transmission, coordination, undertake the commercial settlement with SLDC/RLDC and de-pooling of the applicable charges with all the relevant wind/solar generators.
TPTCL started providing QCA services for all major Solar/Wind generators of Karnataka w.e.f. 1st July 2017.
AT present, TPTCL is providing QCA services to Wind & Solar projects (67 nos.) with total capacity of 2663 MW. We are registered as QCA in the states of Karnataka, Andhra Pradesh, Rajasthan and Gujarat.
Functions of TPTCL as QCA
System & Integration- IT platform on cloud server for seamless flow of data from generators to SLDCs.
Forecasting- Generating forecast using numerical weather prediction, historical data and real time generation with due consideration to special events like plant maintenance, grid constraint and load curtailment
Scheduling- Week ahead, Day ahead and Intra-day schedules with 16 revisions

Assimilation of each pooling station's available capacity and power forecast on cloud server to integrate with aggregated schedule for respective SLDC.
Copy of schedule in each revision is shared among the generators of the pool.

Data Monitoring on real time basis- Incorporating necessary changes in schedules on intimation of grid outage and load curtailments (24×7 operations control Room)

Storing real time data on data base server for onward transportation to SLDC.

Reports- Accuracy analysis of forecasted power Vs Actual generation data.

Aggregated charges for Deviation on monthly basis.

Undertaking de-pooling of Deviation charges among generators & commercial settlement on behalf of the generators with SLDC as may be mandated from time to time.
Registration requirements
Consent letter addressed to SLDC specifying TPTCL as QCA for the PSS/ Generator connected
Static data of Solar/ Wind farm in SLDC prescribed format
Historical and Real time data access to TPTCL through SCADA/FTP for establishing forecasting tool
Payment Security towards charges for deviation as specified by SLDCs for an amount per MW for Solar and Wind in the form of Bank Guarantee
Written agreement with the Generator connected with STU Pooling sub-Station
Details of IF point ETV meters (ABT meters) for the Pooling sub-Station
Encrypted load survey data in proprietary format of main and check meters at interface point of pooling sub station before 5th of every month