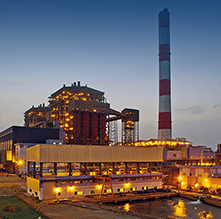 – Maithon Power Limited
Smart Energy Management
As a part of Smart Energy Management offerings, Tata Power Trading Company Limited extends end-to-end energy services covering both supply and demand side.
Smart Energy Management focuses on leveraging cutting edge technologies like Internet of Things (IoT), cloud computing and data analytics to digitize energy vectors of an industrial and/or commercial facility through real-time monitoring and management capabilities.
The robust system on offer enables industry and user specific customization capabilities geared towards empowering facilities to take proactive decisions when energy is concerned. Smart Energy Management is also equipped with system capabilities designed to not just manage energy consumption but also consider productivity related metrics and present useful insights on business specific KPIs like Overall Equipment Effectiveness (OEE), Specific Energy Consumption (SEC), Energy Performance Index (EPI) and any other parameter you may wish to configure and manage.
Smart Energy Management is our quest towards helping you implement a greener and smarter facility by harnessing the power of Data, Digital and IoT.
Click here to embark on the transformation journey towards sustainability and efficiency!