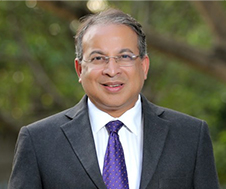 Mr. Praveer Sinha
MD & CEO, TATA Power Delhi Distribution Limited
Mr. Praveer Sinha has over three decades of experience in the power sector and has been credited with transforming the power distribution sector and development and setting up of greenfield and brownfield power plants in India and abroad.
Mr. Sinha holds a Master's Degree in Business Law from National Law School, Bengaluru and is also professionally trained as an Electrical Engineer. He is also a member of the Faculty Board at Faculty of Management Studies and a member of Board of Governors at the Indraprastha Institute of Information Technology, Delhi. He is a Research Scholar at the Indian Institute of Technology Delhi and is also a visiting Scholar at Massachusetts Institute of Technology, Boston, USA.
Before his appointment in Tata Power, Mr. Sinha was the CEO & Managing Director of Tata Power Delhi Distribution Limited (Tata Power-DDL). Tata Power-DDL is a Public Private Partnership (Joint Venture) between the Company and Government of National Capital Territory of Delhi, supplying power to over seven million people in North and North-West Delhi.